Auto Window Tinting
Car window tint film adds elegance and distinction to any car. The people around Kansas city,  Missouri  Olathe Shawnee area know how bad the sun gets here. Tinting your car helps so much w the heat. Apart from awesome privacy, tinting helps with driving especially when the sun is directly in your face. Tinting also blocks up to 99% UV rays which goes a long way in protecting both the passengers and upholstery. Tinted cars experience less interior cracking, fading or even warping. If you spend a lot of time on the road, you can't afford to miss out on this invaluable addition.
Choosing the right film from different window tints then becomes the next challenge. Here are 7 tips for choosing a car window tinting that gives your car both style and substance.
1. Familiarize with the various tinting options
The more information you have regarding car window tinting, the better it is for you. As a first step, consider visiting a window tinting shop and learn about the several available types of car tints (like auto window tint shades). Scorpion deals in a variety of car window tint and could make for a great place to learn about types of car window tints.
2. Top tier tints vs. average tints
The choice here depends on two things: how much you are willing to spend on getting your windows tinted and your usage of the car. Top tier tints are long lasting, more appealing to the eye and generally do the job better.
3. Consider buying UV reflecting window tints
Exposing the skin to UV radiation for extended period of time is believed to be unhealthy. UV window tinting for cars helps you keep at bay up to 99% UV rays from the sun. UV car window tinting also ensures that sun's energy is not trapped in the car. This eliminates the oven effect often experienced if a car stays for long periods in the sun.
4. Know what your state laws say about car window tinting
Every state has its laws regarding window tinting for cars.  Kansas law is   35% VLT%: Visible light transmission is the measurement used to assess automotive window tints.  Missouri law is 35%  tint front  passenger  and driver door,  any VLT   percentage on the back 2 doors and back glass of the vehicle, light or dark window tint,  You don't want the cops flagging you down because your windows is too dark. Find out the allowable  window tint in each state before making a dissension. Window tinting laws.
5. Let the tinting be done by a pro
Everyone can try tinting but only a pro can bring out that unique elegance. Pro tinting will definitely cost a little more but it's definitely worth that extra charg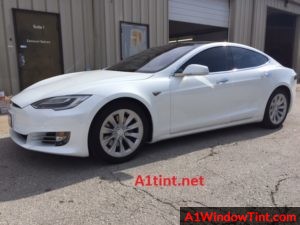 e.
6.Know where to tint and where not to
The side mirror, for example, should not be tinted. This also applies to the rear mirror. Lighter shades of car window tint will be safer on rear and side windows but dark tint is whole different thing. Darker Auto tint shades can obscure parts of the window which makes it difficult to view images and that can be dangerous.
7. Know how to maintain your window tints
After the tint is installed, you should wait for a few days before cleaning and rolling down your windows. You should not risk pulling the tint loose until you are sure it is fully dried. there might be some distortion on the film intill it drys,  After having tint applied, the window is usually cleaned by the installer. When cleaning, it is recommended to use a soft paper towel and any ammonia-free cleaner. Scorpion Window Film gives elaborate tips on car window tint cleaning and maintenance.