A-1 Window Tint Kansas City's best
Everyone has seen a really bad window tint job: peeling edges, scratches in the film, annoying bubbles, and hazy purple discoloring. It is enough to make you not want to get your windows tinted at all, right?
While a few bad apples can spoil the bunch, there are actually a lot of really great window tints available today that will give your vehicle the style you want. How can you figure out the best car window tint brand and how do you choose the right one? When choosing, consider these factors to determine the best window tint brand for your needs:
Total Solar Energy Rejected (TSER) – a higher number means less heat is transmitted.
Ultraviolet Light (UV) rejection that can protect against sunburn, skin damage, and interior fading.
Visible Light Transmitted (VLT) with a higher number equaling a lighter color for improved visibility.
If metals are used in tints that can cause signal interference. That disrupts GPS, radio, key less entry, remote starters, and cell phone transmissions when metals are used in tints.
We offer Lifetime warranties against bubbling, cracking, peeling, fading or defects.
We use only top quality film. It's important because the cheaper tint will fade to a purple color and start to peal and b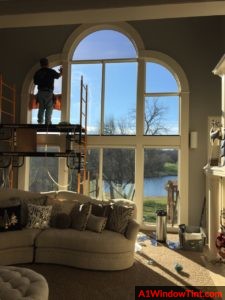 ubble. Our tint will not fade keeping your car looking good and you staying cool for many years.
We offer Residential and commercial Solar, safety and decorative film
So the next time you think of vehicle window tinting think of
Window Tinting Of Kansas City has been pleasing customers for over 30 years. We strive to make our customers happy. There is no 3 year, 5 year or 10 year warranty. We are here for you for a lifetime!! You can call us and we will give you prices over the phone or you can come in and see us. You can also go to our website at Here. We hope to see you soon! A1 Window tint Film specializes in commercial, residential, and automotive window tinting in the Kansas City Metro area.