Window Film Repair/Replacement
Is your window tint looking bad? 
Is it: Damaged/Scratched, Bubbling, Peeling, Fading, Hazy, Cloudy, Delaminating, Etc.…
If so, rely on the professionals at A1 Window Tinting to remove and replace it for you.
Window tint films are made of thermoplastics (polyethylene terephthalate), when your vehicle is exposed to the hot sun over an extended period of time (usually years) it will impact the strength of the film and adhesive. This extreme heating and cooling causes cheaper (low grade/dye based) films/tints to fade and breaks down the adhesive & dyes, resulting in blurriness.
If your window tint is failing, you should rely on professionals for removal and replacement.  Removing window film can be tedious and damaging to your vehicle.  Proper precautions and suitable tools should be utilized.  
The most common damage when removing film is to the defrost lines on the back windows.  Depending on the quality of the film and the quality of the adhesive utilized, length of time the film has remained on the vehicle, exposure to elevated heat and UV the process can take several hours and require several steps for proper removal.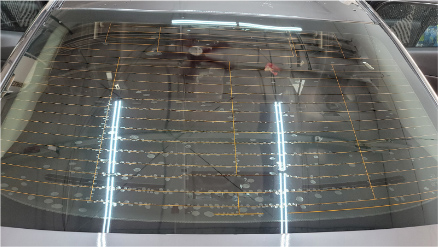 Window Film Repair/Replacement FAQs