At A1 Tint, a commercial window tinting company in Kansas City, our number one goal is to give excellent customer service to every customer.  We provide quality window tint films and products that allow for more comfortable work, living and driving spaces. Additionally, our tints provide energy savings. Our knowledgeable staff will assist throughout the process from product selection to professional installation.
To learn your options, call A1 Tint today at: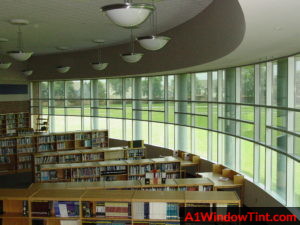 in Missouri (816) 246-2000
in Kansas (913) 299-8990

What is window tinting?
Window tinting is the process of adding a thin laminate film onto the surface of a home or building's windows, so as to prevent the sun's UV rays and heat from entering. It can either be applied onto the interior or exterior of a glass surface depending on the user's preferences.

 Nowadays, window tinting is increasingly gaining popularity in areas that experience high temperatures. There is certainly a lot of sunshine in the Kansas City area.

How does it work?

Usually, the laminate films for tinting are dyed or metalized to transform solar radiation to infrared energy, which then bounces back through the window and out of the building. Today, there are special non-metallic window films that are ceramic, which reduce heat transmission up to 80 percent. Installing window tints is most successful by professional Commercial Window Tinting Company.


Here are some benefits of tinting your windows:
Prevents sun ultraviolet ray damage to furnishings

Provides privacy and aesthetic styling

Controls heat and glare

Prevents sun ultraviolet ray damage to furnishings

If your home or office furniture is sitting next to the window, radiation from the sun can ruin them by causing fading or cracking of the furnishings. However, with a window tint you can significantly reduce the amount of harmful UV rays entering the building, thus protecting people and furnishings from damage.

Provides privacy and aesthetic styling
Window laminates are available in different designs and patterns that will add aesthetic value to your home or business. They can be curated to create unique textures, frosts and gradients plus some of them also contain special coloring treatments.

The tints can be applied in any window within the building, covering both the outside and inside.

Controls heat and glare

When not tinted, windows usually let in a lot of glare and heat that can cause temperature buildup, as well as increased energy costs. However, by having the windows tinted you can control the amount of external heat entering your premise, thus enjoying greater comfort and lowering your energy bills significantly.
A1 Tint, your Commercial Window Tinting Company in Kansas City 
Call today at: