Sun glare troublesome in your home? Interior furnishings fading from the hot sun?
So many benefits of home window tinting in Kansas City are available. Read on to learn more.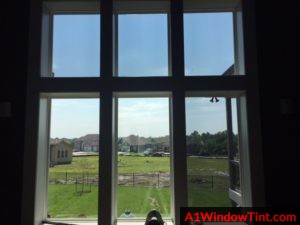 Call A1 Tinting today at:
The Kansas City area experiences many days of hot, bright sunshine. Because of this, homeowners continue seeking the benefits of home window tinting in Kansas City every day. Some homeowners turn off their air conditioner or raise the heat level to reduce their energy bill while others close the blinds during the day to protect themselves from harmful glare, UV rays, and sun's heat. Here are some of the reasons homeowners in Kansas City (KC) invest in professional home window tinting services:
Energy savings

Safety and security

Glare and heat reduction

Protection from UV rays

Decorative enhancement
Energy Savings
Research has revealed that up to 43% of household utility goes to cooling and heating. However, home window tinting films can help homeowners reduce their energy costs significantly.  When homeowners protect their homes from the sun's heat with window tint films it provides financial energy savings as well as making the home more pleasant.
Security and Safety
Of course, every homeowner in stormy KC wants to know that their family is safe against strong winds and storms. Fortunately, window tint films provide security and safety similar to glass found on car windshields. In an accident, when window glass breaks,the tinting film can help hold the pieces together. Thus providing some safety to anyone involved with the glass breakage.
Glare and Heat Reduction
Window tints prevent the windows from absorbing heat and offers an option to reflect harmful UV rays. It can help homeowners save on their utility bill by protecting their homes from the sun's heat. In addition, a great solution for anyone that feels tired of squinting to watch TV or see inside their house is to invest in window tints that can keep out the annoying sun glare.
Protection from UV Rays
People can protect their homes from harmful UV rays. The leading cause of skin wrinkles and skin cancer is exposure to harmful UV rays. However, recent research suggests window tint films as part of a comprehensive skin care program. Exposing furniture to UV rays can also cause deterioration and make household goods fade faster than usual.
Decorative Enhancement
Apart from security and safety, homeowners can use decorative window tint films to bring in more styles to their living room. For example, there are choices of window tint films that homeowners can use to darken their living room. You can also use window tints to add privacy and lessen visibility into your home. Homeowners can also use accessory window films to add privacy to their doors or bathroom windows. Try out our tint simulator to see how tints work in your home.
So many benefits of home window tinting in Kansas City are available today.

Visit A1 Tinting in Kansas  City or