Window tint Apple Country Club Plaza 
Customers malting from the heat, film that lets the light you want and keeps the heat out, clear film virtually colorless and clear without the mirror effect, Block out 99% UV rays, Blocks out up to 72% of the heat and 98% infrared rejection, clear unaltered view day or night, at $17 dollar a SQ foot the best in the market today,
The Apple Store is located in the Country Club Plaza shopping district, Plaza shopping district is located in the heart of Kansas City, we just install Hilite 70 made by Solargard. Imagine walking into any room in your  business or home, no need to close your blinds or curtains.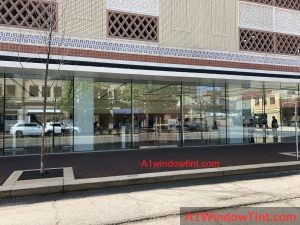 Block the heat and no reason to turn up the air conditioning. Or controlling the solar heat in your commercial building, without blocking the natural light and views that support productivity and a sense of wellbeing. A-1 Window tint offers free estimate,  A1 Tint our expert staff will assist with your residential or commercial window tinting in Kansas City. Our professional sales and installation staff are knowledgeable, friendly and helpful to get your project underway and successfully completed. Are you needing help understanding all the various types of materials available for residential window tinting?