At A1 Tint our expert staff will assist with your residential window tinting in Kansas City. Our professional sales and installation staff are knowledgeable, friendly and helpful to get your project underway and successfully completed. Are you needing help understanding all the various types of materials available for residential window tinting? Then look no further, come on in to visit us or give A1 Tint a call for a free estimate.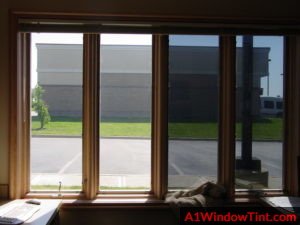 Window tinting gives your home an aesthetically pleasing appearance and protects your family from harmful UV rays and glare. To achieve this goal, you need to hire the best residential window tinting company in Kansas City. Here are various types of window tinting.
UV Window tinting/ solar window control films
Strong UV rays have negative effects on the skin. They can lead to dry skin, premature aging, wrinkles, and skin cancer. Not to mention, they can cause degradation of your home furniture, hardwood floors, carpets, and electronic items. UV window tinting blocks 99% of ultraviolet light. The most common window films include:
High reflective window film

Medium reflective silver window film

Light reflective silver window film

High reflective green window film

Climate 70 window film
Decorative window tinting
Most residential homeowners are embracing the new designs with open arms. The films are available in a multitude of colors and shades to suit your distinct personality and taste. More interestingly, they can be removed later to change the appearance of your home. The best window tinting company in Kansas City will help you be as creative as you like – your imagination is the only limitation.  This type of window tinting will not only cut down the ambient light but also offers a multitude of decorative patterns. 
Anti-graffiti window tinting
It's suitable for acrylic and polycarbonate glazing windows. This window film has a specific design to minimize vandalism while protecting mirrors from permanent damage. And when paint on the graffiti fades, it can easily be removed and replaced.  Apart from adding an aesthetic appeal to your home, they do a perfect job at blocking damaging UV rays, glare and heat.
Carbon window tint
Carbon window tint film is dark or matte finished and provides a tasteful option on windows. Just like any other window tinting, it blocks a good amount of UV rays preventing fading to upholstery. Carbon window could be a good option if you want to keep the cooling costs low. Needless to say, it does not fade with time.
Metallized window tint
It gives a fantastic look and added protection from the harmful UV rays. Metallized tint uses sun-taming technology and is offered in a variety of charcoal shades. Particles of metal are added to reflect the heat away. Unlike dyed film, a metallized film is less likely to fade or scratch.
Ceramic film tinting
While it may be the most expensive option, it does a remarkable job of blocking up to 50% of heat and allows in natural light. Additionally, it blocks the harmful UV rays from getting through reducing damage to furniture. It's worth mentioning, that this is the clearest option of window tinting.
It's important that you choose a residential window tinting company in Kansas City that you can trust.